Broker | Owner/Business Development The Swan Agency Sotheby's International Realty in Bar Harbor
The Swan Agency Sotheby's International Realty in Bar Harbor
43 Cottage St
PO Box 46
Bar Harbor,, ME 04609
Email Phone: (207) 288-5818 Fax: (207) 288-2151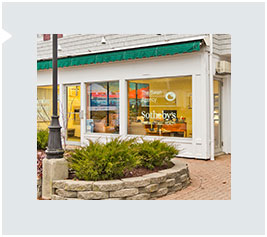 About Kim
Kim moved to Bar Harbor with her family when she was 5 years old. As a young child, Kim was submerged in the family real estate business and as a freshman in college was encouraged by her father to get her real estate license. She joined the family company in 1981, selling homes through college summers. Today, Kim is the sole stockholder of Trumpeter Inc., d/b/a The Swan Agency Sotheby's International Realty.
Kim focuses on business development and selective brokerage of luxury and commercial properties. She also oversees the marketing, public relations and social media programs, focusing on staying ahead of the curve. Her most recent project involves directing and producing Living Acadia TV, a show celebrating the Acadia lifestyle and exploring the Coast of Maine while featuring the listings of The Swan Agency Sotheby's International Realty. Kim is also the founder and Creative Director of the Mount Desert Island Designer Showhouse, sponsored by The Swan Agency Sotheby's International Realty and Maine Home + Design Magazine. The inaugeral 2013 Showhouse benefited The Jackson Laboratory and the 2014 Showhouse benefited the Bar Harbor Historical Society.
Kim resides primarily in Bar Harbor but spends much of her time visiting her investments properties up and down the coast. Having the opportunity to be in a quaint, coastal town one minute, and in Portland experiencing all aspects of city living the next minute is one of her favorite parts about living and working in Maine. Kim is dedicated to her community, and works with several animal rescue organizations and is currently on the Board of the Bar Harbor Historical Society. She also served 10 successful years as a Bar Harbor Town Councilor. She has many business interests throughout Maine, focusing on lodging and real estate investment as well as her strong interest in art, interior design and music publishing. Her most important job however, is being Mom to her two Yorkies, Ava and Izzi.
Listen to Kim's exclusive interview on the "Mogul Episode" of My Desert Island Podcast
Q&A with Kim:
Q: What is your favorite season in Maine and why?
A: I love late fall when the tourists are gone and we get the Island back to ourselves while there is still some beautiful weather left.
Q: Best place you've watched a sunset or sunrise?
A: Sunset, under the Golden Gate Bridge. The sun literally seemed to go into the water. My companion whispered tssss in my ear…. as it dipped into the ocean, one of my favorite memories.
Q: What three people from history or present day would you love to have dinner with?
A: Elvis Presley, King Edward IV and Toby Keith.
Q: What trait do you most life about yourself? In others?
A: Optimism. In others loyalty.
Q: What trait do you most dislike about yourself? In others?
A: Yo-yo dieting. And in others hypocrisy.
Q: What destination would you love to travel to?
A: Scotland.
Q: What is the best life lesson you've learned from someone else?
A: My sister told me to listen to music on my iPhone during dentist appointments. Changed my life.