Written by Laurie Schreiber
"Billy Joel and Christie Brinkley, a grandson of President James Garfield and a Spanish countess were all once guests of a Blue Hill bed-and-breakfast whose origin as a private residence dates back to the 19th century.
The history of the Barncastle Hotel & Restaurant was part of what attracted its new owners to buy it.
"Everything about it is eye-popping," said Owen Royce-Nagel.
Royce-Nagel and his wife Lizzie Szczepaniak bought the inn, at 125 South St., from Loralie and Isaac Robbins for an undisclosed price.
COURTESY / ARS MAGNA STUDIO, ALLANA TARANTO
Lizzie Szczepaniak and Owen Royce-Nagel moved from Boston, where they were a sommelier and chef respectively, to buy and operate the Barncastle Hotel & Restaurant.
The property, at 125 South St., listed for $1.6 million.
Dana Moos of Swan Agency brokered the deal.
Turrets and performance stage
The two-story shingle-style Victorian hotel and a barn, totaling over 9,000 square feet of space, date to 1884 and sit on 2.68 acres. The hotel has five guest rooms and suites, common areas and a 75-seat restaurant.
Listed on the National Register of Historic Places, the hotel was originally a private residence designed by Boston architect and Blue Hill native George Clough. Features include an onion dome turret, eyebrow window and covered archway framed by two pairs of turrets. The main building has a central hall with 16-foot ceilings and split staircase with mezzanine. The first floor includes a grand foyer, gift shop, dining room and large library, all with working fireplaces.
A three-season sun porch, large deck with adjoining bar, two restrooms and a commercial kitchen with a wood-fired oven also occupy the first floor.
COURTESY / BARNCASTLE HOTEL & RESTAURANT
A 75-seat restaurant and pub were part of the attraction for the buyers.
The barn was recently restored and has been used as a summer event space for as many as 100 to 120 guests. It has sliding barn doors opening to an outdoor deck and courtyard and is equipped with a performance stage, sound and light systems, event bar, restroom and heated billiard room. The second-floor barn space has high ceilings and a loft.
The property was marketed as having the potential for expansion; additional rooms, cottages, a spa or pool would all be possible.
Blue Hill's first bathtub
The Barncastle was built after another house in its location burned down in 1835. The house was subsequently remodeled. Original roof timbers can still be seen in one of the guest rooms. Barncastle had the first bathtub in Blue Hill. The tub, still in use in another guest room, is made of solid cast iron and took 10 men to carry it to the second story.
The house changed hands many times over the years. Among its incarnations, according to information provided by the inn, it was the home of a countess who came from Santa Eulalia, a town on the Isla de Ibiza off the coast of Spain. In the 1960s, it was the year-round home to President Garfield's grandson and family and was dubbed Barncastle by Garfield's great-granddaughter.
The barn was once a five-car showroom for a Lincoln dealership. As a bed-and-breakfast in the 1980s and early 1990s, guests included Billy Joel and Christie Brinkley after their wedding.
The inn has also served as a marriage counseling retreat and a community haunted house at Halloween.
The sellers
The sellers owned the Barncastle since 2007.
"Just after 16 years of being open year-round, it was time for them to just relax," Moos said of their decision to sell the inn. "Their daughter goes off to college in a year and I know they want time to be able to travel and spend with her, wherever that may be."
The buyers
The buyers have extensive backgrounds in hospitality.
Born in Lake Forest, Ill., Szczepaniak worked at restaurants in Boston after college. After meeting Royce-Nagel, the two helped open a Cambridge restaurant, Craigie on Main, and worked on a cheese farm in Alsace, France. Further advances in her career included positions at restaurants in a variety of locations and gaining certification as a sommelier.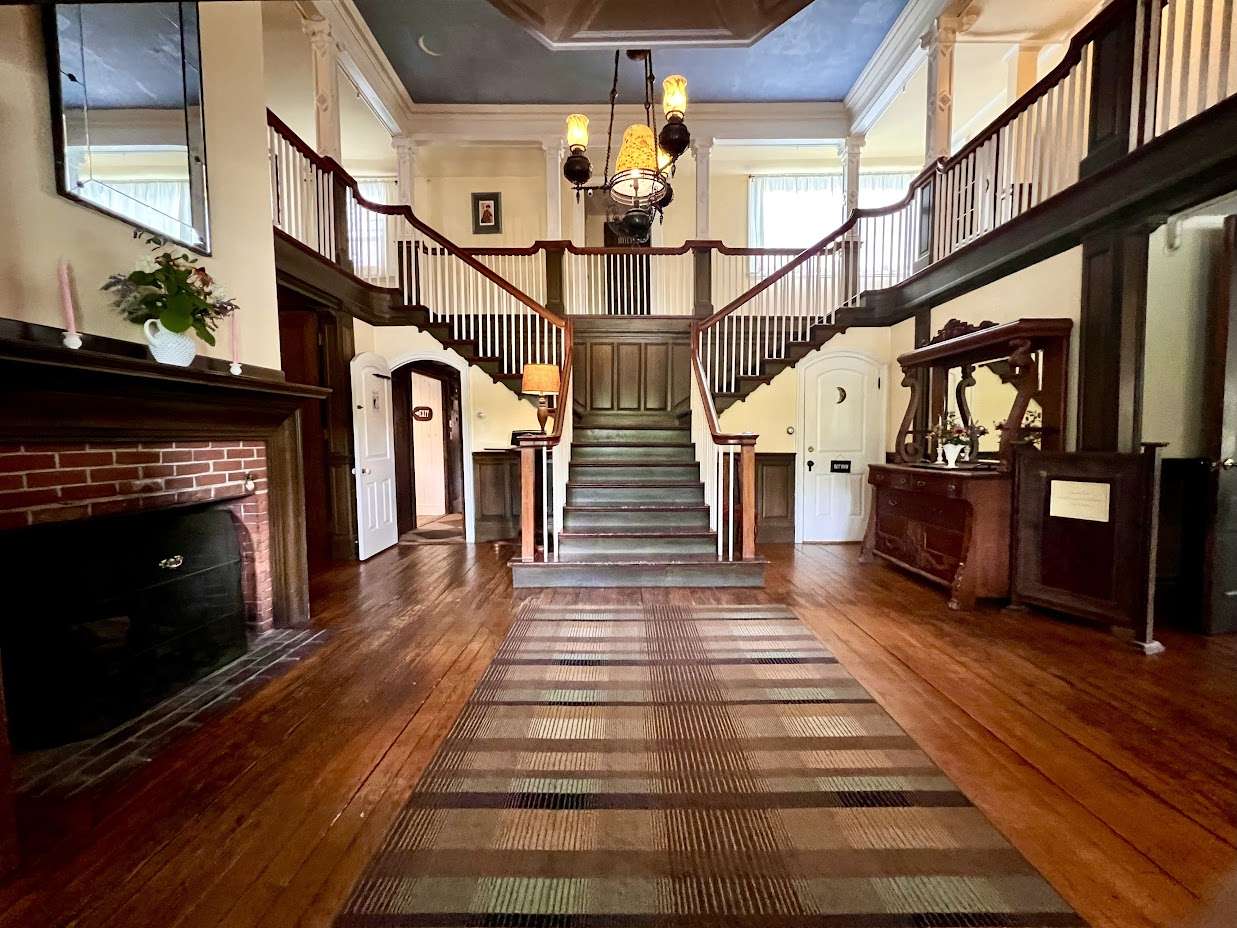 COURTESY / BARNCASTLE HOTEL & RESTAURANT
The main building has a central hall with 16-foot ceilings and split staircase with mezzanine.
Born and raised in Dorchester, Mass., Royce-Nagel made various culinary moves in London, North Carolina, Seattle and Sweden before landing in Boston. Subsequent positions included sous chef, kitchen manager and head chef at various restaurants.
For Royce-Nagel, the dream of opening his own restaurant turned into running a restaurant and inn with Szczepaniak.
But Boston wasn't the right place.
"Unless you're coming to a project with a ton of money, it's hard to get it off the ground," he said of Boston. "We have cultivated investors over the years and we finally decided to put it into something where we have equity and into the surrounding community as well."
The two had traveled to Portland over the years and loved Maine.
"Once we decided having an inn with a restaurant was the new dream and things started opening back up, we'd take monthly trips to different cities in Maine, different types of inns, seeing what we liked and didn't like," said Szczepaniak.
COURTESY / BARNCASTLE HOTEL & RESTAURANT
The first-floor dining room includes a working fireplace.
They connected with Moos, who showed them a variety of opportunities, including the Barncastle.
"It couldn't have been better," said Szczepaniak.
The couple took over operations in March. The inn is open year-round. They initially closed the restaurant for a short time in order to get in new wares and to train their staff, and recently reopened.
Blue Hill's year-round community has kept the restaurant busy, said Royce-Nagel.
The couple will largely run the operation as-is.
The previous owners "did an amazing job with this place," said Szczepaniak. "They have a great eye. We didn't have to do much. It's pretty turnkey."
They replaced some of the artwork as well as certain restaurant wares, such as glasses and plates.
"But the whole aesthetic is beautiful as-is," she said.
The purchase was financed through a combination of personal and outside investment and a small business loan through the U.S. Small Business Administration's 7(a) program. The 7(a) is SBA's most common loan program and is particularly useful when real estate is part of a business purchase, according to the SBA.
David Hulit was the locally based lender who helped finance the SBA (7a) loan with Ready Capital, where Hulit is a business development officer. Ready Capital is headquartered in Berkley Heights, N.J., and Hulit is in Portland. According to Hulit, Ready is the fifth largest SBA (7a) lender by dollar volume nationwide.
The couple is already booking events in the barn, including local musical acts. A goal is to grow the property's wedding program."