A long-time restaurant on the waterfront in Stonington has sold to Bar Harbor restaurateurs who have been in the business for nearly 50 years.
Laura and Erik Johnson bought 27 Main St. from Rudi Neumayr of Nereus Investments LLC for an undisclosed price.
The list price was $1.195 million.
Erica Brooks of Swan Agency Real Estate represented the buyers and Morgan Eaton of The Island Agency represented the seller in the deal. The buyer's lender was Vicki Hall at Machias Savings Bank.
"We are excited to start over the winter with occasional pop-ups and take advantage of the off-season to get our feet wet and plan for the 2024 season," said Laura Johnson. "We love Stonington and look forward to becoming a part of the year round community."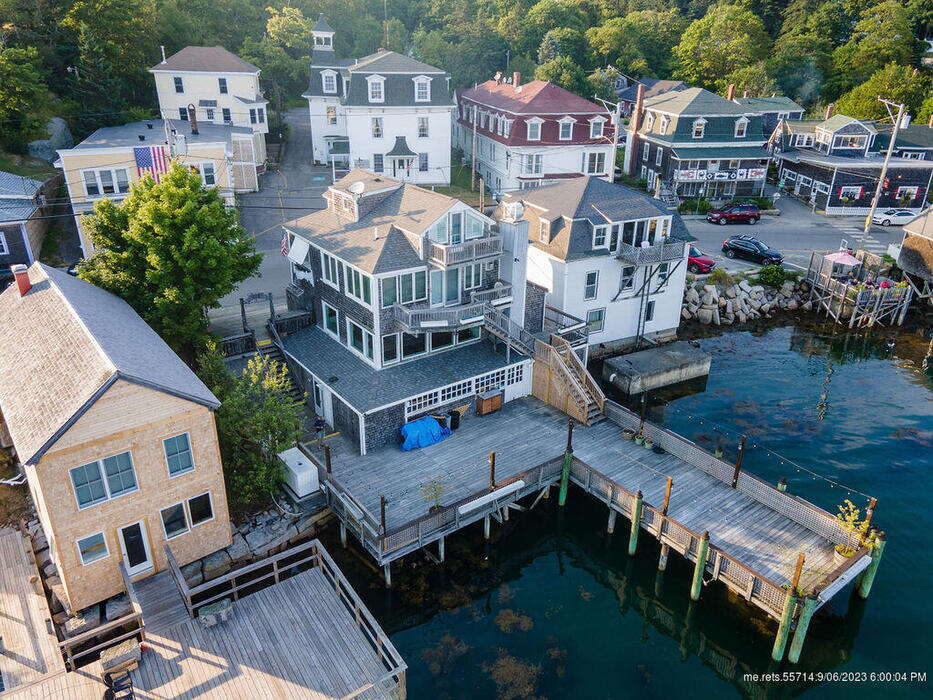 COURTESY / THE ISLAND AGENCY
A 1031 exchange made possible the purchase of the nearly turnkey restaurant on the waterfront.
The restaurant was marketed as a nearly turnkey opportunity with a large dock system, including a dining dock that seats 72, on Stonington Harbor. The interior dining room seats 35.
The 4,268-squre-foot building on three stories was built in 1950 and renovated in 2003, according to listing materials.
On the third floor, there's an apartment with two bedrooms and two-and-a-half bathrooms, two waterside balconies, a "gourmet" kitchen, and an "entertaining area" with a bar and a propane fireplace.
Custom details throughout the structure include oak flooring, lighting and upholstered seating. The location has visibility along the downtown's Main Street.
"This building is so prominent and we're excited to add them to the community and the restaurant culture, Morgan Eaton said of the buyers.
Eaton's brokerage office is across the street from the restaurant. In its early years, she said, the building's uses included a variety store with an ice cream and sandwich bar in back.
It was later modified to be a full restaurant.
Neumayr acquired the property in 2003, said Eaton.
"He was conscientious about keeping the building in great shape," she said.
In the early 2000s, she said, he renovated the dock and building and operated the Maritime Café.
In recent years, the restaurant was leased to other operators.
Most recently, it was leased to Chicago chef Ryan McCaskey, who operated Acadia House Provisions there for three years.
The Stonington restaurant has been vacant since 2022, said Erica Brooks, who represented the buyers.
"I can't wait for the community to see what Laura and Erik have planned for this truly extraordinary space," said Brooks.
READ FULL ARTICLE: https://www.mainebiz.biz/article/waterfront-restaurant-in-stonington-sells-to-long-time-bar-harbor-restaurateurs?utm_source=ActiveCampaign&utm_medium=email&utm_content=Real+Estate+Insider%3A+Waterfront+restaurant+in+Stonington+sells+to+long-time+Bar+Harbor+restaurateurs&utm_campaign=REI+102423+v2